Our mission at Lettieri & Co. is to be the ultimate purveyor and trail blazer in the specialty food, wine and spirit industry, to discover the best of what is unique and exciting, and to provide our customers these superior products at competitive prices, combined with exemplary customer service.
Francesco Lettieri has a passion for food. Born in Calabria and raised in Chicago, Francesco was surrounded by homemade Italian food growing up, and always had the dream of entering the gourmet food business. He moved to San Francisco in 1973 and opened a small sandwich shop, called Mr. Submarine in the Marina neighborhood. Mr. Submarine was a success and the business quickly grew to 7 locations. In 1986 he sold the chain, and in 1988 officially opened Lettieri & Co. Francesco's dream of importing finely crafted food and wine from Italy and around the world had been realized. Throughout the years, the company has grown in size and now carries over 75 lines of imported goods. His passion for food has not faded a bit. Francesco still travels the world, finding hidden culinary gems to bring to the shelves of your store or kitchen of your restaurant.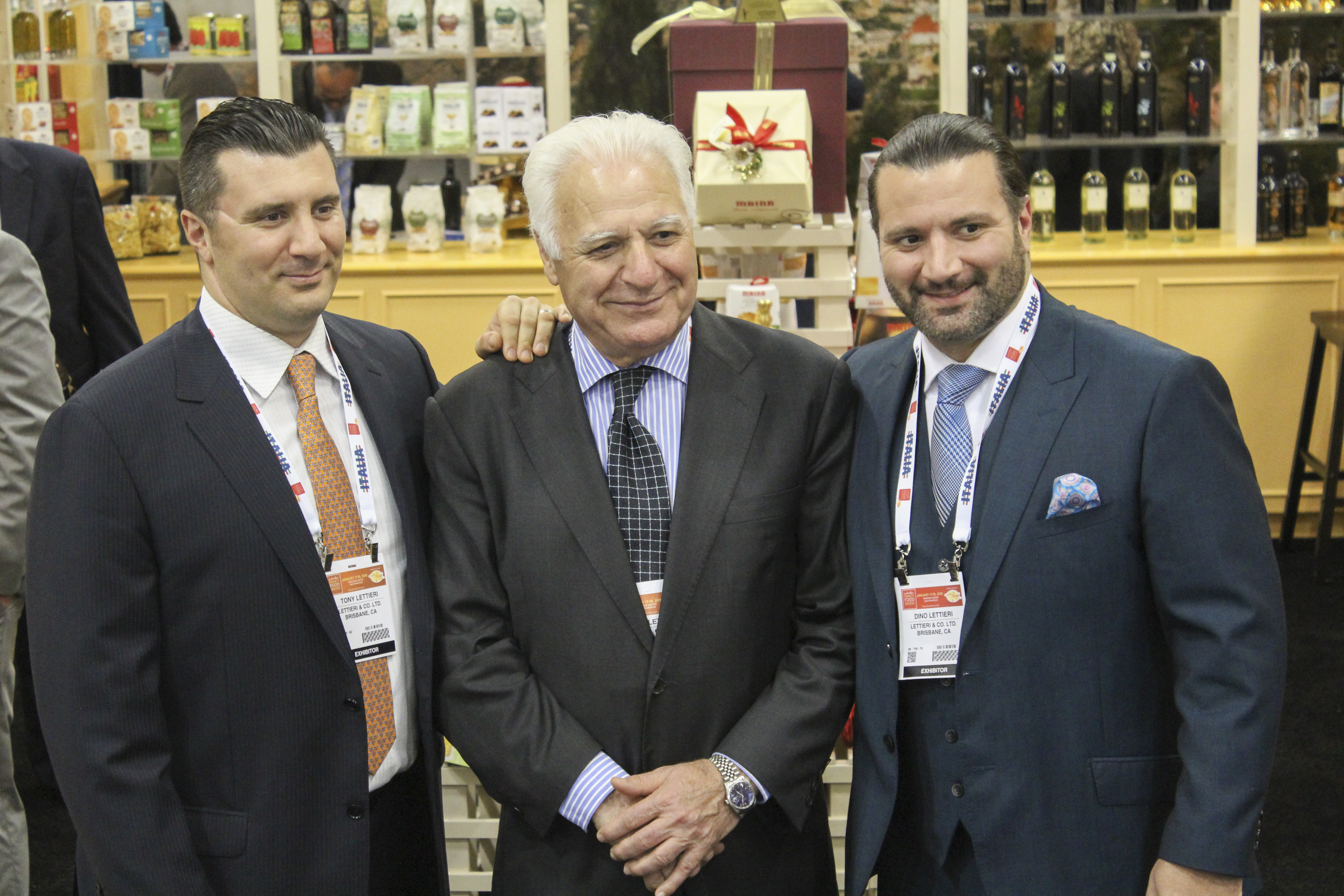 Along the way, Francesco and his wife Nevenka had two sons, Antonio and Dino. Both sons have been learning the food importing and distribution business from an early age and are excited to continue to grow the family business. Dino's outgoing personality made him a natural fit for sales, and he is now the Director of Sales and Marketing at Lettieri & Co. Tony's knack for finding new and exciting products along with his broad based knowledge of the operations of the company lends itself perfectly to his position as Chief Operating Officer. With a solid base of well-established contacts around the world, and a new generation of Lettieri's poised to grow the business, the future looks bright for Lettieri & Co!
The sofi™ Award
The sofi Awards have honored the best of the best in specialty foods and beverages from members of the Specialty Food Association since 1972. The Awards represent culinary innovation across America and around the globe. Finalists are selected at the Association's offices in New York City by a national panel of specialty food professionals. The winners are selected by retailers and food service buyers attending the Summer Fancy Food Show.
Our Past Awards
Along with our latest gold medal, Lettieri has enjoyed recognition for a wide range our specialty products, with 11 awards over the past 20 years. Check out the List of sofi awards!
Notable Awards
2019 – Tomarchio Aranciata Rossa Organic Italian Soda: sofi Gold – Cold Beverage
2019 – Iliada Single Estate Extra Virgin Olive Oil: sofi Silver – Olive Oil
2014 – Barbera Lorenzo no 5 Extra Virgin Olive Oil: sofi Gold – Outstanding Oil
2008 – Giuseppe Giusti Riccardo Balsamic Vinegar: sofi Gold – Outstanding Vinegar
2000 – Maina II Gran Panettone: Gold – Most Outstanding Baked Good, Bread, Grain or Cereal
2000 – Barbera Frantoia Extra Virgin Olive: Finalist – Most Outstanding Oil
Other Awards
2004 – Finalist Most Outstanding New Product 2004
2003 – Winner Most Baked Product
2001 – Finalist Most Outstanding Oil, Vinegar or Salad Dressing
2000 – Finalist Most Outstanding Beverage 2000
1995 – Finalist Outstanding Jam, Preserve, Spread or Topping
1995 – Finalist Most Outstanding Pasta, Rice, Bean or Grain
Lettieri Goes Green
As of December 18, 2014 Lettieri & Co. is running our 40,000 sq ft warehouse on 100% solar. Power! One company can't change the world, but we're making sure Lettieri & Co is doing its part to ensure a better planet for generations to come. When you work with us, you can feel secure that your products are stored and distributed in a responsible and sustainable manner.