VILLA GRIMELLI PLATINUM SEAL BALSAMIC VINEGAR
The Platinum Seal Villa Grimelli represents the highest standard of quality and artisanship in the world of Balsamic vinegars. From the selection of the finest quality grapes, to the natural aging process using Slovenian Oak wood barrels, painstaking attention to detail is given to every step of production. The result is a delicately balanced, sweet and sour, rich and subtle balsamic that earns its platinum seal. Enjoy on fresh strawberries, sliced tomatoes, and grilled meat and fish.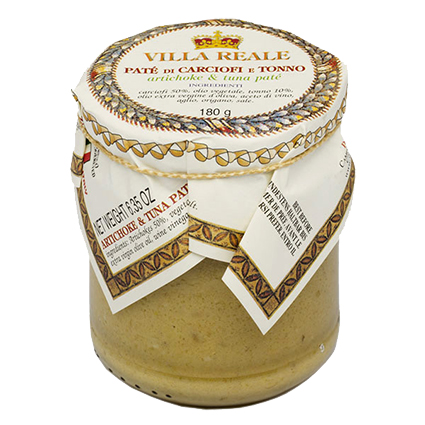 GROCERY, CONDIMENTS
The Villa Reale Artichoke Tuna Pat? contains: artichokes, tuna, vegetable oil, extra virgin olive oil, wine vinegar, natural herbs and salt. These spreadable pat?s are as versatile as they are delicious. Excellent used for bruschetta, smoothed onto warm bread or as an indulgent buffet dip. They are also a simple but tasty addition to pasta and rice dishes.