VILLA GRIMELLI PLATINUM SEAL BALSAMIC VINEGAR
The Platinum Seal Villa Grimelli represents the highest standard of quality and artisanship in the world of Balsamic vinegars. From the selection of the finest quality grapes, to the natural aging process using Slovenian Oak wood barrels, painstaking attention to detail is given to every step of production. The result is a delicately balanced, sweet and sour, rich and subtle balsamic that earns its platinum seal. Enjoy on fresh strawberries, sliced tomatoes, and grilled meat and fish.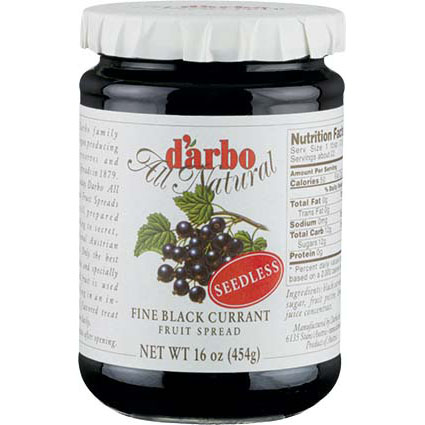 Specials, GROCERY, PRESERVES
Black currant preserves. The Darbo family started making preserves in the Austrian town of Gorz, in 1879. The company may not have divulged all the secrets behind its success, but it has revealed one: Only the best fruits are good enough for its preserves. This is why they source their fruit from the world's best fruit-growing regions. Decades of experience and long-standing fruit-buying relationships give them an edge when it comes to obtaining choice, high quality fruits which are then processed by gentle cooking.