MONTE POLLINO EGG LASAGNA SHEETS (THIN) – BULK
Authentic fresh frozen pasta made with the finest ingredients. Lasagna sheets made with egg pasta.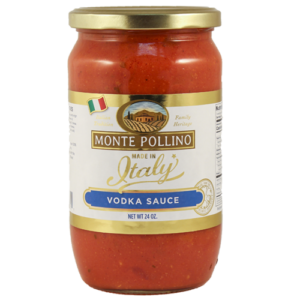 GROCERY, PASTA SAUCE
The Monte Pollino Brand represents high quality at an excellent value. The assortment of authentic Italian pasta sauces are made with all natural ingredients and 100% Italian tomatoes. This sauce is made from tomatoes, parmigiano cheese, onions, cream, extra virgin olive oil, basil, garlic, and vodka. It gained popularity in the 1970s, when a variation won a national recipe contest in Italy. The vodka's function is to release flavors in the tomato that are normally inaccessible.
5 out of 5