MANCHEGO CHEESE 6 MONTH – BULK
The Roblevega Manchego is a 100% sheep's milk cheese produced in the La Mancha area of Spain. This version of the popular Spanish cheese is aged for 6 months.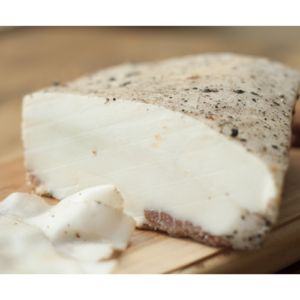 MEAT & CHEESE, SALAMI, SAUSAGE & DELI
Hot Lardo is cured back fat from Iberico de Bellota pigs of Spain. Seasoned with sea salt, Black pepper, Juniper berries, chilis, and lots of fresh herbs. It is used sliced thinly to add luxurious richness to dishes.