LAIT PECORINO SARDO
Pecorino sardo, sometimes referred to as fiore sardo, is made from the milk of sheep local the Italian Island of Sardinia. It is a hard cheese, with an intense flavor that pairs well with young Italian reds.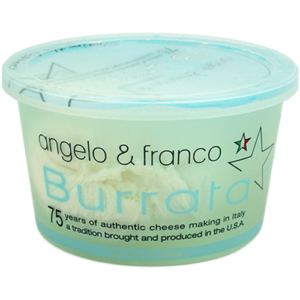 MEAT & CHEESE, FRESH CHEESE
When Angelo Tartaglia and Franco Russo moved to Los Angeles from BagnoliIrpino, Italy, they brought with them the skills and knowledge to produce authentic mozzarella, ricotta and buratta right here in California. Burrata is a fresh cheese made from mozzarella and cream. The outer shell is solid mozzarella while the inside contains both mozzarella and cream, giving it a uniquely soft texture. It is usually served fresh, at room temperature. The name Burrata means "buttery" in Italian.