BARBERA NOVELLO 2018
Italian for "new," this intensely fresh olive oil is the first oil from the Sicilian olive harvest.  It is unfiltered, with aromas of green olives and fresh cut grass and herbs.  It's flavor is robust and spicy with a pleasant, slightly bitter finish.  For the true olive oil lover.
SKU:

32139
Categories: New Items, Holiday, GROCERY, OLIVE OIL, FOOD SERVICE, BULK & FINISHING OIL
Tags: alien blood, fresh, green, oil, olive, unfiltered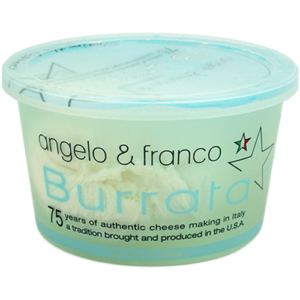 MEAT & CHEESE, FRESH CHEESE
When Angelo Tartaglia and Franco Russo moved to Los Angeles from BagnoliIrpino, Italy, they brought with them the skills and knowledge to produce authentic mozzarella, ricotta and buratta right here in California. Burrata is a fresh cheese made from mozzarella and cream. The outer shell is solid mozzarella while the inside contains both mozzarella and cream, giving it a uniquely soft texture. It is usually served fresh, at room temperature. The name Burrata means "buttery" in Italian.