BARBERA FRANTOIA FATTORIA FIASCHETTA
Single local olive varietals are harvested by hand and milled within 24 hours from harvest to preserve freshness.  This unfiltered oil has a light and fresh taste with hints of fruit and almond.  The perfect oil for restaurant tables and specialty grocery stores.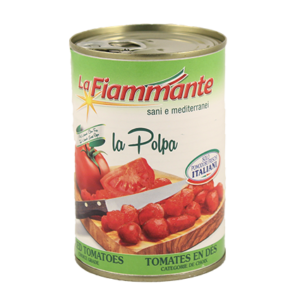 Specials, GROCERY, TOMATOES
La Fiammante is one of Italy's most popular tomato brands. They are Vera Pizza Napoletana approved, which means they meet strict requirements that respect the tradition of Neapolitan pizza ingredients. By putting time and care into their picking and packaging process, La Fiammante ensures a high quality product that is filled with undeniable flavor.  Once you try these tomatoes, it will be hard to go back to anything else.